If you don't know this artist I want to introduce you to here. She is one of my heros. I love her work and I love her attitudes.
These pieces are from her permanent collection and can be seen on her website. There is a lot of terrific info about her to read and there are several books out about her as well. Before I knew a lot about her, a friend gave me a book about her and said "Here, she reminds me of you." What a wonderful compliment. I wish I had her nerve and her gutsiness. I love her artwork and unknowingly, I spotted it in the Nelson Atkins in KC and ran over to the piece. It was glowing in the light. I wish we had access to her glazes but I am afraid they remain a mystery.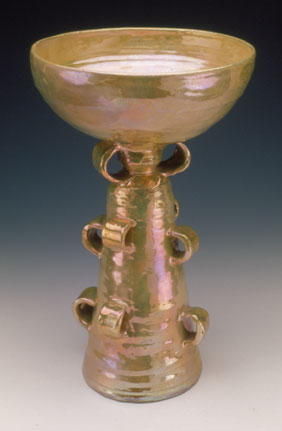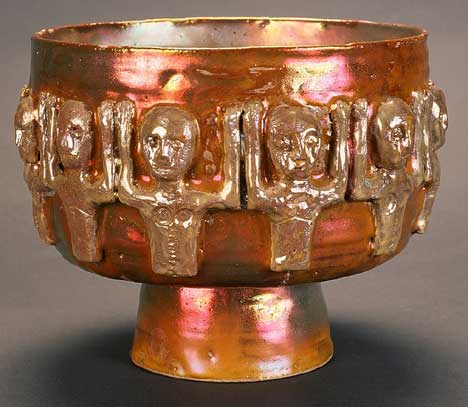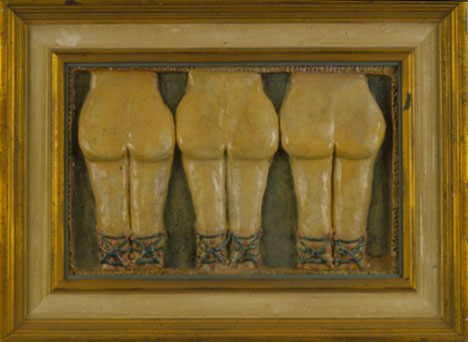 These are pieces from her permanent collection. She mixed glazes basically in a cooking style and lived her life joyfully and completely without reservation.
I had posted in my studio three important things in her life according to her bio for a long time
1. chocolate
2.younger men
3. she didn't give a shit
Visit her web page and find out more if you want:http://www.beatricewood.com/.
I like the nerve but I have to say,

1.Sometimes I like fresh rasberries more than chocolate
2.Younger men must also be intelligent and age does not really matter to me
3.I like the idea of not giving a shit but I do not want to think that way at the expense of others.
Check out her book I Shock Myself. Wish I had those glaze formulas. There is also a great little movie out about her. Wish I had a copy.